5 Reasons to Add Christmas Ham to Your Deli Counter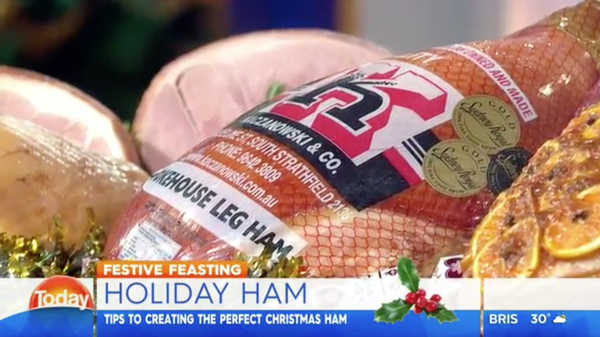 Christmas ham is a staple of the Australian holiday season. If you're a butcher, delicatessen or independent grocer, selling Kaczanowski's award winning Christmas ham is a great way to grow your xmas orders.
1. Get in the festive spirit
Smoked ham legs are a perennial Christmas favourite. Chances are, your customers are already asking for Australian made Christmas ham. Last year, demand for bone-in ham grew by 15% across the country.
Leg hams are an exciting and seasonal product that goes perfectly with fresh produce, cheese and other meats. Hams can easily be prepared as part of quiches, bakes and sides – or decoratively glazed as the table centrepiece.
2. Stand out from the supermarkets
Kaczanowski & Co have been making premium gourmet smallgoods, including Christmas hams, for many decades. You can be confident that you're selling a high quality product that cannot be matched by the Supermarkets.
All smallgoods are produced in our South Strathfield (NSW) factory. As an Australian-owned and family run business, we are proud to supply distributors and stockists across the country.
3. Customers love Kaczanowski xmas ham
Kaczanowski hams are award-winning. Expert judges have rated our smoked leg hams as being among the best in Australia. But it's not just the critics that are impressed. 
Every year we receive wonderful letters and Facebook comments from delighted families that swear they'll never buy a different holiday ham.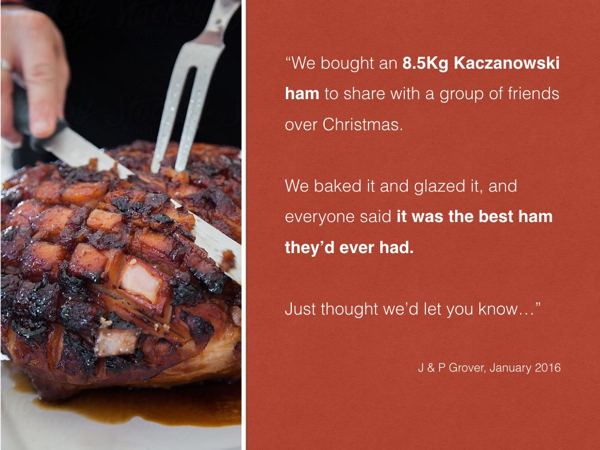 4. Something for every taste
Give your customers plenty of choice. The Kaczanowski Christmas range includes traditional bone-in and boneless (easy carve) options. Flavour profiles range from intense double-smoked through to traditional smokehouse and lean Virginia ham. 
Christmas hams can be ordered as half or whole legs, available in a range weights. All hams are Australian grown.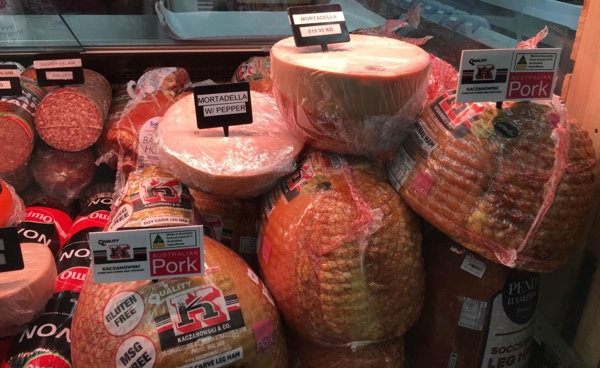 5. Order now, in time for Christmas
Make the most of the holiday food season. Fill your deli counter with award-winning and Australian-made Christmas hams. Order now to get ahead of your holiday rush.