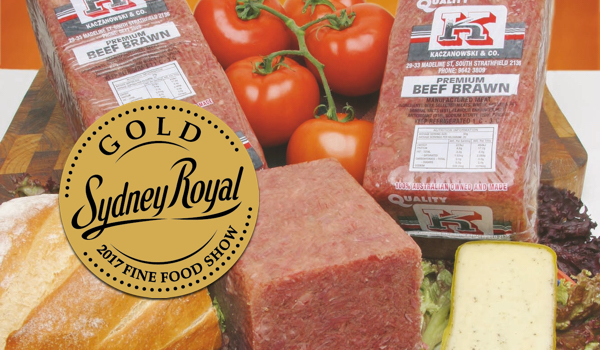 Kaczanowski & Co Beef Brawn has been awarded a prestigious gold medal in the 2017 Sydney Royal Fine Food Show.
The Sydney Royal Fine Food Show is Australia's pre-eminent competition for gourmet and boutique food producers. As you might expect, competition is fierce. To win a gold medal (or any medal) demonstrates the very highest standard of food production.
Operated by the Royal Agricultural Society, the annual Fine Food (Deli Meat) Awards attract leading smallgoods producers from throughout Sydney and Australia. Each year, results are determined a panel of expert judges, trained to assess the gastronomic merits of traditional deli meats, smallgoods and Christmas leg ham.
Australia's best beef brawn
In a crowded field, Kaczanowski Beef Brawn achieved a tremendous score of 90.67 based on appearance, taste and smell. The judges commented that the overall standard of this category with high, underscoring the tremendous honour of our gold medal win.
Beef brawn (sometimes also called Presswurst, or more humorously, Head Cheese) is a cold cut traditionally made from boiled offal. Despite this, it is a staple of school canteens and deli counters throughout the country. In recent years, brawn has enjoyed a surge in popularity as it is discovered by a younger generation.
Kaczanowski beef brawn is made from 100% Australian beef, using a family recipe with our own blend of spices and cures. It is one of our most consistent medal-winners.
---
Sell our award winning products if your cafe, butchery or deli.
---
A tradition of smallgoods success
Kaczanowksi & Co have a long history of success at the Sydney Royal Fine Food awards. Many of our most popular products have been honoured with Gold or Champion medals, including Smokehouse Leg Ham, Smoked Chicken Breast and Beef Pastrami. In 2017 we are pleased to add Beef Brawn to our growing list of gold medal winners.
We were also awarded multiple silver and bronze medals for other smallgoods and deli meats, including Gourmet Bacon, Virginia Leg Ham, Roast Beef, Easy Carve Leg Ham and Corned Beef.
A win for Australian produce
As an Australian-owned and family run business, we are delighted to continue a long tradition of excellence. Once again, we thank our staff, fans, outlets and customers who continue to support us and make these outstanding results possible.